iCan't believe iCarly is back: Join me in a random dance!
"Warning: if you fall asleep, the school is not responsible for anything Sam Puckett might draw on your forehead"
5…. 4…. 3…. 2….
A show that most kids my age have grown up watching. Something that we all could rely on to make us laugh. 
What's better than watching two hilarious best friends, Carly and Sam film their webshow together while keeping up with their middle/high school drama? Not to mention the goofy characters that made the show so memorable. 
I remember watching iCarly as a pre-teen. Reruns or new, it didn't matter because every episode was bound to create laughter. 
Now our generation will have a whole entire reboot of the show!
What's the hype all about?
As I sit here writing about one of my favorite childhood shows, I can't help but turn back the clock to when times were simpler. 
It's now becoming a realization that a lot of my humor sparks from this show. (I don't think kids today would understand the pure laughter after watching Carly miserably failing to put tacos on a stick at T-Bo's shop, Groovy Smoothie.)
There's so many things that made iCarly so lovable: the jokes, Sam's remote, the characters, random dancing, Luther's wart, the fires, the crazy and unrealistic teachers, Spencer's statues, and so much more.
iCarly has also had many special guests: Michelle Obama, Emma Stone, One Direction, Jimmy Fallon, Tina Fey, Jane Lynch, and David Archuleta. Some played themselves and others played characters on the show.
One of my favorite characters was Sam (Jennette McCurdy), a sarcastic, strong friend (who also happens to kind of be a juvenile) who doesn't care about what other people think. She's tough and doesn't let anyone disrespect her. She also cared a lot about her friends, and that has always stuck with me.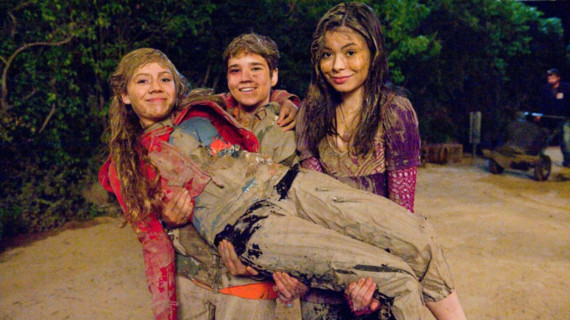 She taught me to be true to myself and to not change for anyone. In one episode she tried to act more girly to impress a guy. This didn't go well and she ended up going back to her normal resilient self and helped defend her friend from a bully. Yes Sam has her moments as a juvenile, but she was the glue of the show.
Nothing beats Sam beating a bully with her butter sock.
I also remember kids my age would make little skits on their moms camcorder like how Carly and Sam did. And even a little later in life I would still do silly things like this. My friends and I would post funny videos on Vine or Instagram. This just goes to show the development of technology. What else has changed?
Shows through generations
"I liked the show because the cast acted like one big family. And in all of the episodes they pretty much got a long and overcame their problems," said senior, Kylee Rutledge. "There was always a message to every episode. It was nice to watch something so funny as a kid, but also something that secretly taught me how to deal with similar problems later in my life."
Although most kids that watched the show seem to be around the ages of 17-22 now. Other kids in middle school right now, or freshman, or sophomores don't remember the show that well and didn't watch it as much.
Ava Smith from New Market Middle School can't recall any specifics from the tv show.
"I didn't watch iCarly all the time. If it was on, I would watch it but it wasn't my favorite," said Smith.
Does this just show how hit tv shows have changed from generation to generation?
"My show was definitely Jessie," said Smith. "I could watch that show for hours."
As generations get older and transition from one point in their lives to another, it looks like different generations watch different shows.
When I was even younger, I would watch Dora the Explorer, Clifford the Big Red Dog, Little Einsteins, or Rugrats. But kids nowadays watch shows like PAW Patrol, Sofia the First, and StoryBots, all shows that I haven't really heard about.
Of course, there are some that have lasted a long time like Sesame Street and Spongebob Squarepants. It all depends on the generation and what new shows are being cooked up.
Nothing is better than the classics though. And I think all of Gen Z can agree with me on that one. Even if the reboot doesn't go well, iCarly will always be a favorite, no matter what happens.
"I personally don't think the reboot is a good idea. The original is such a hit and to me, I don't think the reboot could live up to that," said senior Sammy Thomas. "Also Jennette McCurdy won't be on the reboot and she is one of the reasons why iCarly was so great."
The show has obviously impacted many students. Mostly in silly ways.
"iCarly has played a large part in my sarcastic humor," said Thomas. "So I will definitely check out the reboot once it's released, even though I'm not all for the idea."
Senior Reese Wilson explained how that show impacted him and his day to day life.
"One of my favorite characters was Gibby. He was so funny and did the weirdest things like randomly taking his shirt off and yelling 'Gibbyyyy'," said Wilson.
Today if someone took their shirt off and yelled their name like Gibby, true iCarly fans would burst out laughing.
"It's cool because some of the jokes and scenes on the show are so subtly funny," Wilson said. "I like to bring up inside jokes from the show all the time."
What to expect in the reboot
While the show is back on, there will be some changes to the cast. Some of the original characters, Carly Shay (Miranda Cosgrove), Freddie Benson (Nathan Kress), and Spencer Shay (Jerry Trainor) will be returning. But Carly's best friend who we all know and love, Sam Puckett (Jennette McCurdy) will not be in the reboot. 
The iCarly reboot is coming to Paramount+ and the cast is currently filming as of March 2021.
But without Sam Puckett by Carly Shay's side, what will the reboot look like?
To start things off, Carly has a new best friend and Freddie is a stepdad! (now I feel old.) Carly's new best friend and roommate is named Harper (Laci Mosley). And Freddie's stepdaughter, (Jaidyn Triplett).
Nathan Kress explained in an interview, "The cool part is what makes it different too is we have new characters that are coming as well," Kress said. "So it has a lot of familiar faces, but there's new people involved that are going to change up the story a ton and make it very interesting and I think somewhat unexpected."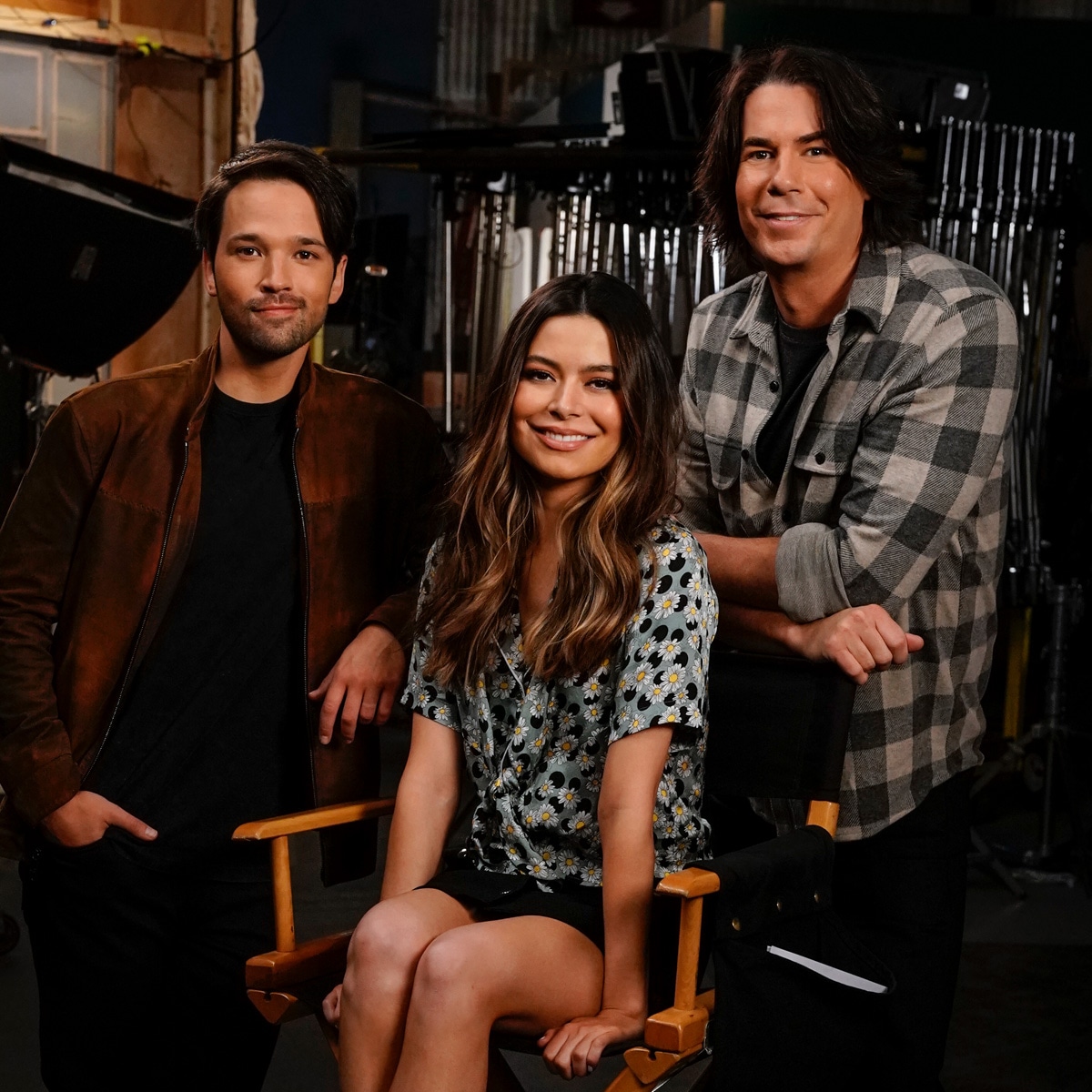 Obviously, I'm really excited about getting this reboot, but without some of the memorable characters that made the show so special, will it feel the same?
We know that Sam is not returning to beat people with her butter sock. Which sparks some intriguing questions: Why isn't Jennette coming back? Is it because of the Sam and Cat drama? Or is it deeper than that?
After iCarly was cancelled, a spin off called Sam and Cat with McCurdy was created alongside Nickelodeon star, Cat Valentine (Ariana Grande) from Victorious (another great classic.) 
But the show was quickly cancelled after the first season because Grande was rumoured to be paid more than her costar, McCurdy. 
To watch or not to watch
Of course if one of your favorite classics returns to TV screens you're gonna be happy and jumping for joy. But is it worth it? 
So many shows are getting a reboot like Gossip Girl, Big Time Rush, Lizzie McGuire, etc. 
And judging from the past, reboots don't always go so well. Most of iCarly's fanbase is all grown up now or are growing up. So will they even watch it? Will it still be the same?
Shows like Full House and it's reboot, Fuller House take my hopes away. The new show did get some attention at first but was canceled after 5 years because it just didn't get enough of it. Fuller House also got a lot of criticism from old fans. Their overall opinion was that the reboot tried too hard to recycle old jokes and didn't bring enough new material to keep everyone entertained.
I worry that something similar will occur with this reboot.
We will never really know how it will go until it is released on Paramount+, but I still couldn't be any more excited!
I can't wait to see how the writers will carry out each of the characters destiny and to see how they have all changed. I think a lot of people didn't realize that during our childhood, the actors grew up too.
Your donation will support the student journalists of Linganore High School. Your contribution will allow us to purchase camera equipment and cover our annual website hosting costs. We hope to raise enough money to re-start a monthly printed issue of our paper.