Music to the Rescue: Virtual concerts help to heal hearts during national COVID-19 crisis
Music has always been a way to lift the soul when the world seems blue.
The coronavirus pandemic forces a new reality of life under self-quarantine–for both audiences and performers. During these troubling times, many artists have set up cameras in their homes to record digital concerts to provide entertainment for their fans. It's a rare glimpse into a famous artist's life.
We at Lancer Media have put together a list of some of our favorite concerts.  
King Princess performs about loss, longing, and love in her Tiny Desk (Home) Concert
By Dana Kullgren
NPR Tiny Desk Concerts are known for offering short, personal concerts from artists of all music genres and backgrounds, and the pandemic hasn't stopped them from doing just that. NPR has recently introduced "Tiny Desk (Home) Concerts," which showcase artists performing from their homes. King Princess, the 21-year-old indie pop artist from Brooklyn, put on a show from Hawaii on April 8, 2020.
In the style of all Tiny Desk Concerts, King Princess (KP) dove right into the music, beginning the concert with her song "Isabel's Moment." The song was slow and accompanied by a small electric piano (paired with a comically large yellow amp).
I will admit, I only knew one of King Princess' songs before I watched this concert ("1950") so I wasn't sure I would enjoy it, but this song had me hooked. The ending of the song in particular was heart wrenching; KP's voice wavered with sorrow and uncertainty as she repeated the final line, "Is this how it's gonna be?" over and over again. In the version of this song on KP's album Cheap Queen, the ending is sung in part by Canadian musician Tobias Jesso, Jr., but KP had no trouble carrying it on her own during this concert.
After the song ended, KP spread her arms to her surroundings and said "Welcome to the quarantine shed!" Gesturing to her instruments (the electric piano, as well as two blue electric guitars resting on a fluffy white chair), she announced that she'd brought "various little toys to play with to bring musical joy."
Her second song, "Prophet," was my favorite of the three. KP traded the piano in for a sky-blue guitar and her jaunty strumming during the chorus was impossible not to nod my head to. She also managed to pour even more emotion into this song than the first one. Particularly at the end, KP's voice turned full of longing and desperation. As KP explained after the end of the song, this song is about "the music business and entertainment business."
Once I had been thoroughly floored by "Prophet," King Princess started talking about how her third and final song, "Homegirl," is her "secret fave on the record." I didn't think it was as showstopping as "Prophet," but it's hard to deny the incredible atmosphere that KP is able to create with her music, even if she is just playing at home. For this song, KP leaned back in her chair to cradle her electric guitar, letting loose a weeping ballad of love and wanting. KP wrote this song in 2018 about American actress and singer (and her now ex-girlfriend) Amandla Stenberg.
The acoustic quality of this concert was excellent, with both the high quality of a studio-produced song and all of the endearing mistakes and changes that come with live performances. I actually preferred the songs as they are played in this concert to their studio-recorded counterparts (which is not to say that the songs on her albums and EPs are not also praiseworthy). Stripping away the other instruments and background sound effects puts a laser focus on KP's phenomenal voice and made her songs seem even more authentic, passionate, and personal.
As someone who was fairly new to King Princess' music, I thoroughly enjoyed this concert. Though it was a little more low-energy than her usual concerts, it felt just as, if not more, sincere. This concert was funny, genuine, and a refreshing change of pace from daily quarantine life. Regardless of if she's on a stage or curled up in a fluffy white chair, KP's playful energy and cheeky grin are infectious, even through a screen.
Lady Gaga lifts spirits with her virtual performance
Lady Gaga performs "Smile" | One World: Together At Home, on April 18, 2020. She performed one of her famous songs in an attempt to encourage her fans that they can get through the struggles of this time. The video is posted on YouTube for viewers to watch. 
Before Lady Gaga performs her song, she says words of encouragement to help people get through these difficult times and to remind them that they are not alone. She also thanks the numerous medical workers who would risk their well-being to help others in need, following with a transition into her song reminding everyone to smile. The concert is performed in her home studio. Along with singing she is playing acoustics on her keyboard. It is obvious that she has put a lot of time and effort into her performance due to the perfection of it.
I thought that the song was very uplifting. Gaga was trying to boost the viewers morale by smiling along with the performance, following the message of her song. I thought that the performance was a success, after having another boring day at home, this video helped me to feel more positive. The song "Smile" was very fitting to the message she was trying to portray. Lady Gaga is a born leader who loves to be a role model. By her telling everyone to smile she is confident it will help make the viewers mindset more positive. 
Watching Lady Gaga perform this song is worthwhile because it changes how you feel. While this experience was new to me because I have never seen this star in this type of setting. She usually is wearing some crazy, outgoing outfit where in this performance she was dressed more calm and relaxed. This helped to make me feel that she too is going through the same things. The fact that Gaga was not swinging from a rope of standing on a piano shows the change in mood of her music.
I enjoyed this concert because it made me feel better about what is happening in the world. In my opinion, I think Lady Gaga performed this piece very well. The music was almost perfect and it reflected how much free time she must have to prepare and practice her piece. 
The song "Smile" that Lady Gaga performed was an attempt to lift spirits in a difficult time. While she performed the song by herself at her home she showed a side of her that many do not see. Gaga wanted to let her fans and viewers know that they are not alone and she too is going through the same circumstances
Billie Eilish and Finneas do a quarantined performance of "Sunny" to spread hope and positivity 
Billie Eilish and her brother, Finneas perform "Sunny" on April 18 to spread positivity and encourage everyone to stay home. You can watch the concert that was posted on Global Citizen's YouTube channel. Global Citizen is a music festival that normally takes place annually. Now, they have started an organization to support healthcare workers and frontiers during the pandemic. Many other artists have performed songs to support the organization. 
Before Billie and Finneas performed, Billie explained what song she chose and why. She said it makes her feel good and she has always loved it so she wants it to make the people viewing the concert feel good too. They got right into the song after that. "Sunny" by Bobby Hebb is a Jazz/R&B song. Finneas played the baby grand piano while Billie sang. The song has a feel good vibe to it and that is exactly what Billie and Finneas wanted for the viewers. "Sunny" is meant to be an uplifting tune that brings comfort through the pain.
This is a great song choice because it brings joy to people while the world is suffering through this terrible time. It was nice to see Billie sing a cover of a song and not one of her own songs. She still sang very well and you can hear the control in her voice. It is also a different genre then hers, being pop/indie rock/electro-pop. 
You can feel connected to them because they are in a more vulnerable state, in their home and wearing some casual at home clothes. Both Billie and Finneas look comfortable and you can see what they are up to during quarantine. I think it is really cool that artists are still performing for their fans.
Many concerts had to be cancelled and they are trying to make up for it. Billie was in the middle of tour when everything happened. I enjoyed listening to them perform, it also looked so easy for them. As of today, the performance was posted around two weeks ago and it has almost two million views.
The sound quality also is pretty good, you can hear Billie well and the piano. It doesn't sound like a studio version of the song but it's live and a different genre so that it is expected. 
Billie and Finneas did very well with this simple concert. They wanted to make people forget about what was going on for just a few minutes and look at the good side of things. At least, that's what it did for me. After their performance, Billie says "sending our love to you" as she acknowledges all the healthcare workers that are risking their lives during this pandemic. She then blows a kiss to the camera, saying goodbye.  
Niall Horan reminds fans to remain patient during isolation  
On March 25th, Niall Horan was the guest on The Tonight Show Starring Jimmy Fallon. Fallon has been hosting the show from his home instead of the studio and guests have been video chatting with him in order to be on the show. Horan called in from London for an interview and performance. The show premiered both on NBC and YouTube. 
On the show, Horan performed his song "Dear Patience," from his new album Heartbreak Weather. Heartbreak Weather was released on March 13th, meaning a lot of his plans to promote and perform the album were cancelled. However, instead of promoting one of the new singles from the album, Horan decided to play the song that he felt was most fitting and appropriate during this time. 
"It's an album track, but I thought it's very relevant right now. I wrote it at a time when I needed to be patient, and if anyone needs to be patient right now, it's all of us," said Horan while introducing the song. 
Horan performed a beautiful acoustic version of the song with his guitar. When I first listened to the Heartbreak Weather, "Dear Patience" was not one of my favorites from the album, but this performance completely changed my opinion of it. Horan's performance was vulnerable, full of emotion and allowed the viewers to feel connected to how he was feeling when he wrote it. It was easy to tell how much this song means to him. 
This performance was special because of how simple it was. Instead of trying to put on a big, flashy show at his house, Horan focused on the meaning behind the lyrics and his music. There was no need for any equipment or other instruments because Horan put on a great show with just his voice and a guitar. While I already knew how talented Horan was, hearing his voice completely acoustic during this song reminded me of why I enjoy his music so much. I love when a live version of a song sounds just as good as the studio version, which I think Horan achieved. It was evident that others felt the same way, because Horan's performance raised $10,363 for the Meals on Wheels charity. 
Even though I am used to seeing more upbeat performances from Horan, especially on talk shows, this was one of my favorite at-home concerts I have seen over the past few weeks. 
Horan's performance was a great reminder to be patient while we are all stuck inside and waiting for things to get better and go back to normal. He ended the song by saying, "Stay safe, my friends," showing viewers, especially fans, that he was thinking of them. This performance proved that no matter from where or under what circumstances, Horan will always put on a great performance. 
Diplo keeps a world tour going with their Youtube series, but is it the same?
By Kayla Beam
Diplo, like many other artists during this worldwide pandemic have had to cancel many of his tour dates. So as a solution, he has created an online tour that can be found on his Youtube channel. He has posted many videos to the section of his channel devoted to his online tour. Each video runs between being 30 minutes to just over 3 hours long.
The venue looks to be at one of the artists homes in front of a green screen, which was used to edit effects in the background while the artists were performing. These effects change throughout the performance to keep the viewers entertained. All the artists used a large soundboard and DJ equipment During their performances. This allowed viewers to get an up close and personal look at the kinds of  equipment usually used during these types of performances. 
The video that I focused on was the third livestream episode of his concert tour. This concert featured Diplo as well as Secular Sabbath and Rhye. Diplo as well as the other artists are all DJs who mostly specialize in composing club or dance music. Their original songs don't include lyrics. They also remix pre-existing songs created and sung by different artists. They have also been known to collaborate with other artists when making pieces.
As the particular concert that I watched was almost 3 hours long I did not watch the entire thing so I can't say every piece that was included in this particular concert. In my observations some of the pieces were being mixed by the artists while they were being played at the concert. Songs that they mixed in this concert included "Heartless" by Julia Michales and Morgan Wallen, "Lonely" by the Jonas Brothers, and "Wish" by Trippie Redd. That makes me even more impressed with the artists because they were able to make these pieces come together and sound good on the fly.
I personally do not listen to any of these artists and this was the first time I had ever even heard of Secular Sabbath and Rhye but the content that they mixed in this concert sounded very good especially for the club remix style that they are known for. 
As someone who typically doesn't often listen to this kind of music I don't think the concert is worth attending. I also think that these concerts are way too long to hold the attention of most people. Some of the concerts were over 3 hours long and I couldn't even finish the one.
I know most people are upset because the concerts that they purchased tickets for were canceled but I wouldn't waste your time attending an online concert. To me, concerts are all about the experience of going with your friends and screaming along to songs you love. Online concerts are like watching a bad 3 hour long music video. The music itself wasn't bad, but you could just listen to it on Spotify.  The venue was in someone's home and didn't have much visual addition. I would just wait until you could attend a in person concert instead.  
The individual concerts were all way too long for most people's attention spans and it was not super visually appealing. If you were a huge fan of the artist and this was all you could get I guess its okay, but I would rather listen to them on Spotify while I workout then just sit and watch them for 3 hours straight. The online concerts are nothing compared to real life concerts, it didn't even come close. 
Civic Orchestra holds a virtual concert to celebrate their 100th anniversary.
By Nick Titus
The Civic Orchestra of Chicago celebrated their 100th anniversary on March 29th with a virtual concert on their YouTube channel. The opening song is a composition of Tchaikovsky's Symphony No. 5, done by many Civic musicians in their homes playing their individual parts. Then seven different composers provided new pieces of theirs for the concert. 
Nathalie Joachim's piece "Glitch Oasis", composed of synthesizer, speech, violin, other mixed media, is the first song presented after the opening song. I believe this song is very cluttered and is very uncomfortable to listen to. It felt off beat and it lacked a sense of rhythm.  
LJ White comes up next with "Shall I throw myself into the arms of faith??" This song, composed of a main violin and a background violin, is very dark and eerie. I appreciated it's tone. It was executed well and I enjoyed sitting through it. Everything in that song felt smooth and orderly.
Ted Moore came up next with "Hold." This song, composed with several woodwind instruments, also has a dark and eerie overtone, with a hint of calmness. There is a violin part within it that contrasts with the rough nature of the other instruments. I enjoyed this song very much, it was very pleasant to listen to.
Josh Fink was up next with "Civic 100." This song, another composure of woodwinds, is put together beautifully. It has a calm nature to it, yet a contradictory intense feeling at times. The violins in this song work together harmoniously with their contrasting nature.
Liza Sobel was up next with "Reverse Forward." This song, another composure of woodwind, was played in reverse and then played forward. I enjoyed the catchy Melody, but the background violin was quite off-putting and through the song off a little bit for me. In my opinion, it would have worked a lot better if the piece was just played in reverse.
Peter Shin was up.next with "PSA: #650+." This song was composed with a digital drumbeat, woodwinds, and various sound effects scattered throughout the piece. I am not a fan of this song. It has a hip hop overtone that felt very jumbled in my opinion. The beat is too overpowering, and the instruments and sound effects that play over it don't work with the beat at all.
Marta Tiesenga had the final piece of the night, with "old new room." This song, another woodwind composure, starts out gradually peaceful, but quickly becomes an intense piece that's pleasing to the ears. It also has an uncanny nature which works with the pieces intensity very well.
What made the concert worthwhile for me was the opening piece. The musicians all came on and delivered an excellent performance. It reminded me that we can still be united, even in times like these. Up until this point, I had never viewed a virtual concert on YouTube.
This was definitely a new experience. A good added quality to it was the ability to rewind to any part of the concert I wanted to so I can revisit any magical parts of the different performances.
The quality of the music itself definitely varied. While I enjoyed most of the pieces, and even found food parts in the pieces I didn't enjoy, there were still some aspects of the concert that didn't work for me. An example is that the songs have varied aesthetics, which isn't bad by itself but the aesthetics of the songs presented here don't work very well together in my opinion. 
Overall, this virtual concert experience was very new to me and I appreciated it a lot. I would definitely watch something similar to this again, as I had a lot of fun sitting through these pieces. 
Twenty One Pilots light up screens with their new quarantine-related single, Level of Concern
On April 9th, 2020, Twenty One Pilots, a band composed of singer Tyler Joseph and drummer Josh Dun, premiered their new single "Level of Concern" live on Youtube. The pre recorded video was released live to their audience and then re-released as a Youtube video.
Their performance was, as always, amazing. Twenty One Pilots has always been a favorite of mine and for me, this song did not disappoint. It was very fitting for our time and situation, with many references in the song to staying at home in quarantine.
It also included Tyler's personal worries about the situation and how it is making him anxious. At the same time, it still manages to be an upbeat song, and one that I enjoyed a lot.
The video itself was high in quality and very visually interesting, telling a small story about them sending each other the files of the song and includes Dun's fiance Debby Ryan, Joseph's wife Jenna Joseph, and their new daughter Rosie.
The release of this song simply wouldn't have been as worthwhile if it wasn't live. The live chat allowed everyone to get excited for it together, and talk about the song. The sound and video quality were just as good as it may have been if they had a film crew there, and I'm very impressed by that.
I individually enjoyed the song very much, as did most people who watched the video. It reminded me how proud I am of both Joseph and Dun! They have been a favorite of mine for years and it makes me happy to see that that video now has, at this time, over 24 million views over three weeks.
Overall, I was very impressed with the way their song came out, and especially the video, for having been made at both of their houses. I am always happy with what Joseph and Dun release and this experience was made so much more significant with being released live!
Tyler, the Creator brings his bright personality for a memorable Tiny Desk Concert
By Bailey Spore
National Public Radio has been broadcasting something called a Tiny Desk Concert with all different kinds of artists. The artist comes in with a few people and performs a live, more acoustic version of some of their songs.
Perhaps with one of the best Tiny Desk Concerts of all time, Tyler the Creator performed three songs from his album Flower Boy, "Boredom," "See You Again," and "Glitter."
For his last two albums, Flower Boy and IGOR,  Tyler hasn't seemed to put out any bad songs. Both albums are near perfect and that shows here with these performances. The studio is lit with very vibrant, colorful lights that perfectly fits Tyler's aesthetic. Each song's chorus is sung by background vocalists Kaye Fox and Kiandra Richardson, while Tyler raps the verses himself.
All of the songs are a little more chill than the studio versions of the songs, as most acoustic versions tend to be. However when the beat changes on "See You Again" and Tyler starts rapping, the energy in the room is clearly very high and it is amazing to watch and listen to.  
Tyler has one of the biggest and brightest personalities in the music industry today, which was presented in full during the concert. He was making everyone laugh and keeping their energy high during the whole concert. I've seen a lot of Tiny Desk Concerts, but this was the best one I've seen by miles.
After the concert ended, Tyler talked with everyone watching and gave his thoughts on everything. He lets all the band members introduce themselves and have a chance of spotlight, Tyler always gives credit to everyone involved and doesn't like having all of the spotlight to himself. 
"I've never been a fan of rap music with a band, I like hearing 808s and what rap is supposed to sound like, not guitars and normal drums, but I enjoyed getting to experiment here and mess up and just have fun, I liked this, it was great," said Tyler.
This concert was amazing. Tyler is one of my favorite artists to begin with but seeing him like this and seeing how much raw talent he really has was a really cool experience. I loved hearing different versions of the songs I already love and I hope that Tyler comes back to do another Tiny Desk Concert soon. Everyone involved absolutely killed it, and it'll be tough for anyone to top this concert.
Anderson .Paak and The Free Nationals bring soul into their Tiny Desk Concert
By Keifer Spore
In a short 15 minutes, Anderson .Paak and The Free Nationals have an uplifting performance that is sure to brighten up your day. Since 2008 NPR has hosted nearly 1,000 Tiny Desk Concerts. On August 15, 2016 Anderson .Paak and The Free Nationals had an appearance.
Paak starts his performance with "Come Down" which was my favorite of the songs in the concert, the upbeat tone of the song is a great start to the video.
The next song played was "Heart Don't Stand a Chance" which is a bit of a slower song. This was an outstanding performance but was my least favorite out of each in the video.
After "Heart Don't Stand a Chance" he played "Put me Thru" which might be the most different from the actual track but really surprised me with how much I liked it. This was my second favorite performance but not far behind "Come Down."
The final song was "Suede." Paak's performance on "Suede" was right up with "Put me Thru", it didn't surprise me as much but sounded great.
In this Tiny Desk Concert all of the performed songs are outstanding. I definitely recommend watching this. If it isn't your type of music, it can't hurt to give it a try. Even if you don't like it, the video is only 15 minutes.
This was the first Tiny Desk Concert that I've ever seen so it was very different from just listening to music. I played this in the background while doing work and it felt like a live show. There were audience interactions and the final song was recommended by an audience member.
The music quality was still very good even though it wasn't a studio, there were a few things that I noticed missing in the songs but it didn't bother me a bit.
I couldn't be happier with the concert. I loved each performance and it was perfect that it was only 15 minutes. I can't wait to check out more Tiny Desk Concerts from other artists.
John Legend and Sam Smith perform a heartwarming duet from the comforts of their own homes
By Megan Hobbs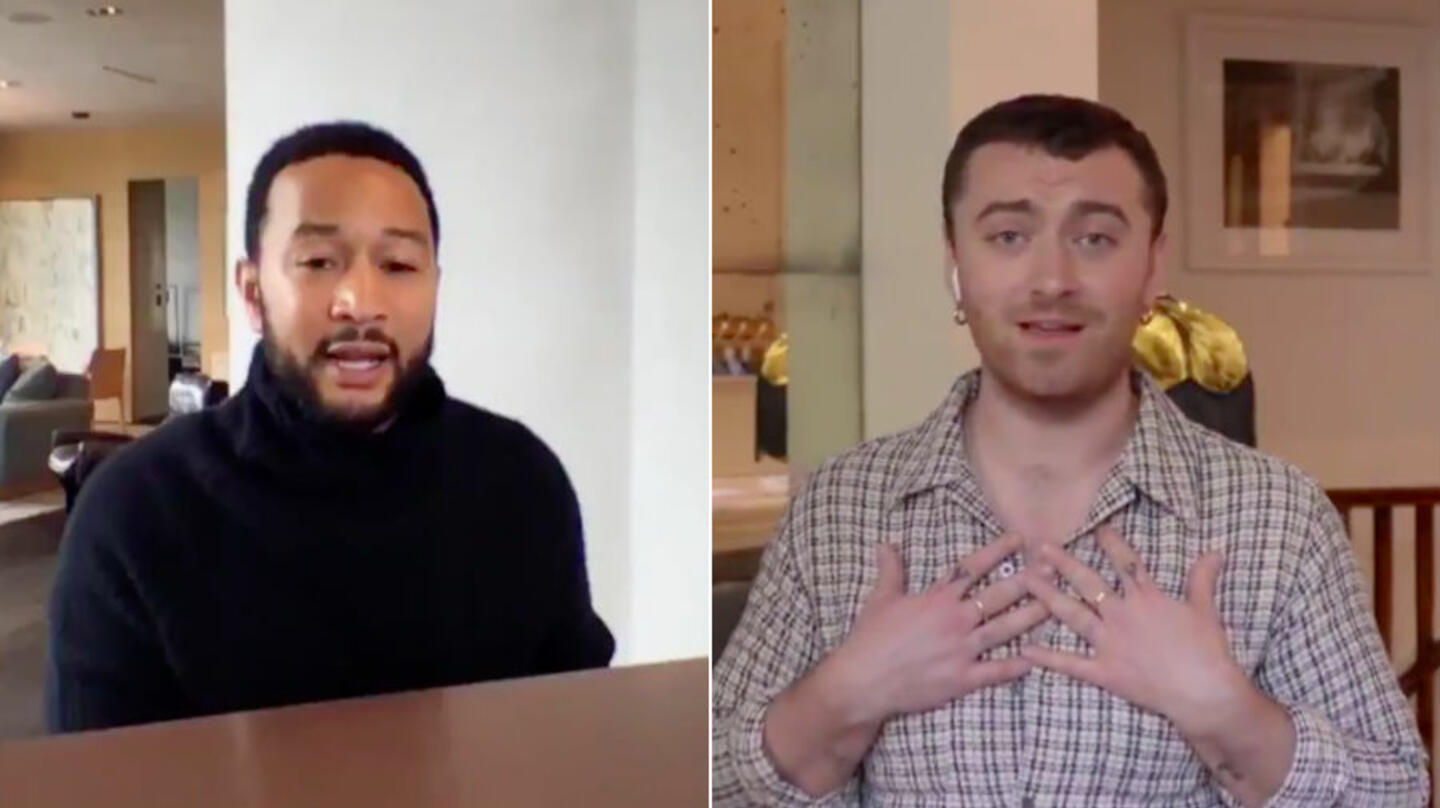 On April 18, 2020, John Legend and Sam Smith recorded a performance of ¨Stand by me¨ which is originally written by Ben E. King. The concert was a part of the ¨One World: Together at home¨ album which includes many other well know artists. Both of the singers performed in their own homes, with Legend playing the piano.
The two singers only sung one song together, which is not much of a concert. John Legend and Sam Smith are both very popular musicians and both have beautiful voices. Their voices would normally go well together but since each artist is in their own homes, the echoes in the rooms somewhat threw off the acoustics in the video when they had to cut back and forth to each artist.
When they sang together, there was not much of a problem. The song they chose was a great decision because it is a nice upbeat song that isn't very gloomy. The song is also very recognizable which helps establish a sense of familiarity with the performers and the audience. 
It was very nice see two singers who have not yet collaborated put on a performance that was so legendary. The artists both have beautiful voices and sung the song very well and with a lot of power.
So far from ¨One World: Together at home,¨  if it is a duet, the two musicians are in social distancing. Each artist is also very known and recognizable to people all around the world. The performance was very enjoyable but felt lifeless in it's presentation. The song started and ended with no thankful or meaningful expression to the worlds current situation. Most artist on the album would usually take the time before they start singing to thank everyone who is still working and talk about these times. 
Overall the song was great and the two musicians vocals melted together like butter. I just wish the video excelled in purposefulness as well as talent. 
Rex Orange County produces free concerts from his bedroom
On Saturday, March 21, 2020, Rex Orange County, Alexander O'Connor, produced a free concert for his fans to watch through Instagram Live in the comfort of his own room. Even though the concert was performed on Instagram Live, you can stream it through Youtube. 
 The concert went on for an hour and 25 minutes. Alex performed many songs of his own such as "Pluto Projector," "A Song About Being Sad," and more. He also covered many songs that were not his own like "Hopelessly Devoted To You" by Olivia Newton-John, "Isn't She Lovely" by Stevie Wonder, "What Makes You Beautiful" by One Direction, and many more.
About 30 minutes into the performance, Alex performed four songs titled "Sunflower" which were by Rex Orange County, Post Malone, Vampire Weekend, and Harry Styles. He performed them all one after another and blended them together which i thought was a very interesting addition to the concert.
I enjoyed all of the songs that he performed, but he only performed the riff of his song "UNO," which I wasn't very happy about because I'd rather hear him sing the actual song. 
Alex had a very bubbly, happy tone and attitude throughout the whole concert which put out a lot of good energy. His voice was calming, when he talked to the viewers, he had Mr. Rogers sounding tone to the way he was speaking. I think it was really selfless of him to spend an hour and a half on this concert because most of the online concerts you see are much shorter than that. The whole experience was new to me, but I enjoyed it a lot.
By performing in his room i'm casual, comfortable clothes, he showed the audience that he was in the same situation as them which was comforting. Alex played the guitar, keyboard, and sang. He played very well and sounded just like he does in his recorded songs which i think made the whole thing a lot better and more enjoyable.
The audience was very much engaged with the performance. Alex asked them to suggest songs for him to sing and he performed most of the ones that were requested. This made the audience really enjoy the show and feel acknowledged.
Throughout the concert, Alex made many small remarks to the viewers which made them know he knew that they were there watching, his small comments felt like he was talking to you face to face.
In between his songs, he said things like, "it's nice to be back," "I gotta take your requests, I ain't prepared for this or anything," and "don't touch your face by the way." The way he incorporated his viewers was very genuine.
The Rex Orange County online concert is worth watching every second of. I enjoyed the fact that Alex was very peppy and smiley through the whole concert because it was capable of cheering up the audience through these hard times.
At the very end of the concert, Alex says, "It's gonna be alright" which gave the audience, or at least me, a sense of comfort.
Your donation will support the student journalists of Linganore High School. Your contribution will allow us to purchase camera/recording equipment and cover our annual website hosting costs. We hope to raise enough money to re-start a monthly printed issue of our paper.